Environmental Manager/Environmental Lead Curzon Street Station
Name:
Hannah Leggatt
Hometown: Staffordshire
Job Title: Environmental Manager/Environmental Lead Curzon Street Station
Company: HS2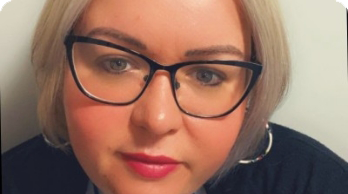 Fun fact about me:
My name is a palindrome which means it is spelled exactly the same backwards as it is spelt forwards. Which I think is pretty cool. I also have a dog a cat and some fish.
What was your dream job when you were 10? I love animals so my dream job when I was younger was either a vet or a marine biologist as I love sharks.
What do you do now?My job is as the environmental lead for the new HS2 Birmingham Curzon Street Station, I am responsible for making sure that all the environmental side of things are considered as part of the project and the designing and the eventual building and construction of the station.
How is your job linked to the environment and why is it important? My job is directly linked to the environment by making sure that the HS2 project protects the environment as much as possible. The HS2 Environmental Statement is a massive document that is now legislation and law passed by government which details how HS2 is to protect and manage environmental impacts, this is my bible and all the things in it are what I have to make sure are done as part of my job. It is also about helping to build stations that are environmentally sustainable for the future.
What do you do day-to-day in your job? My day can be very varied, I can go from looking at the designs for the new station and checking to make sure that it includes the environment, to reading and signing off various environmental reports, taking government visitors out on site and checking the works that our contractors are doing, working with engineers and designers to make sure they are not doing anything that could harm the environment, to mentoring young people and taking part in events such as these to help promote STEM and encourage young people into STEM careers.
What skills and attributes do you need to do your job well? I need to be able to listen, be open to ideas, trustworthy, able to stand my ground, respectful, good at managing my time and prioritising tasks and workload.
What is your favourite part of your job? Getting people to take the environment seriously and to consider the environment at an early enough stage when works are being planned. It is also a challenge being a female in a very male dominated industry.
What subjects would I have to take in school to do your job? I originally studied Business Management at first and that is where my career began, I kind of fell into environment but I am now doing my Environmental Degree alongside working full time.
The best subjects to take to get into an environmental career are Geography, Science, Biology, Physics, Chemistry and Mathematics. It all depends if you go down the environmental/sustainability route or the ecology part of environment.
My challenge for you
What if trees did not exist, how would this impact the earth we live on?