Resourcing Business Partner
Name: Sarah Ogden
Hometown: Droylsden, Manchester
Job Title: Resourcing Business Partner
Company: Network Rail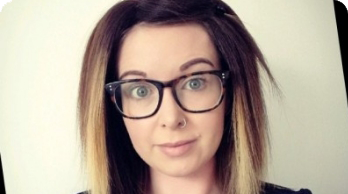 Fun fact about me? I have a pet dog called Steve
What was your dream job when you were 10? I wanted to be an astronaut
What do you do now? I help to find people and give them jobs working on the train tracks to make sure trains keep running.
How is your job linked to the environment and why is it important? Trains can cause a lot of pollution into the environment, so we are working hard to try to reduce this! We also have to manage the trees and plants that may grow near to the Railway and look after animals that may dig holes near to the track!
What do you do day-to-day in your job? I work in an office and mainly use a laptop to post job adverts and find suitable people to work for Network Rail. I also go out and visit managers to give them advice on recruitment and help them with any issues they may have. I sometimes get to go out on site visits where I must wear bright orange personal protective equipment to keep myself safe from trains.
What is your favourite part of your job? I like working with lots of different people and it makes me happy when I recruit someone and offer them a job, they are always very excited!
What challenges do you face in your job? We sometimes find it hard to source candidates who have the right skills to work in specific jobs. As I mainly recruit Engineers, sometimes you have to have special skills to do the jobs we offer. We are always looking for new talent to join the railway and it is very good to get young students interested in Network Rail and describe to them the many types of jobs we offer.
What subjects would I have to take in school to do our job? For my particular job you could have studied anything in school as you can learn the specific skills through training on the job. It is helpful to have a maths and English GCSE however.
My challenge for you
Big questions – What if there was no more petrol / oil / coal left in the country to power the trains – what would happen?
What else could we use to help the trains still run?
How sustainable are your ideas for the future?
What environmentally friendly ways can you power trains?